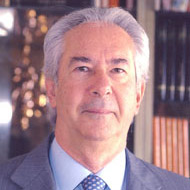 Mr Raphael Debbane
Member of Board
Mr. Debbane is the chairman of Debbané Saikali Group Holding in Beirut Lebanon with activities in pesticides, fertilizers & a seed, marketing of agricultural produce, horticulture & landscaping, wireless broadband operators, building chemicals manufactures industrial heat and sound insulations, wine production and trading. Debbané Saikali Group Holding has developed its culture on a set of values where unity is the key to strength and success; commitment through hard work, unambiguous sense of ethics and professionalism, the continuous care to serve and commitment to include and develop all the persons working in the group irrespective of any classification, segmentation or background.
Mr Debbane celebrated 50 years of Professional life in 2006.
Mr. Debbane is actively engaged in the development of the local economy on solid grounds and has devoted part of his schedule to lead such efforts: He is the President of the Lebanese-Italian Business Council (Lebitalia), a Member of the Board of Directors of Beirut Chamber of Commerce, Industry, and Agriculture since 1995, President of the Agricultural Committee of the Federation of Chambers of Commerce, Industry and Agriculture in Lebanon, Member of the Board of International Chamber of Commerce (ICC) Lebanon, member of the FAFS Advisory Board (Faculty of Agricultural and Food Sciences) of the American University of Beirut (AUB) Beirut - Lebanon, Member of the Consulting Council of the Engineering Faculty of Saint-Joseph University (USJ) Beirut - Lebanon, a Member and Founder of the Lebanese businessmen association (RCDL) – Beirut, and past Board Member of the Lebanese National Social Security (CNSS), past Member of the Board of International Advisors of the Lebanese American University (LAU) Beirut – Lebanon.
Socially, Mr. Debbane is also active. He is Member of Rotary International (since 1965), Chancellor of the Association of the knights of the order of Malta – Lebanon, Honorary Consul of Italy in Saida, Lebanon (1994 – 2009), past Member of the Government Council of the Sovereign Order of Malta – Roma. And finally, President of Debbane Foundation, Saida – Lebanon.